The BitTorrent network is a peer to peer (P2P) file sharing network that is generally used for distributing large files among peers sharing the same network. The BitTorrent network has a huge collection of data and accounts for about 27% to 55% of the total internet traffic.
However, many of the world's ISPs are blocking torrent websites for copyright infringement and legal issues. As a result, BitTorrent networks are losing popularity and P2P shared files are having reduced number of seeds. In such a situation, downloading files through conventional P2P network can be both time consuming and unreliable. There's also the additional risk of facing lawsuits as Governments are getting stricter on copyright related matters.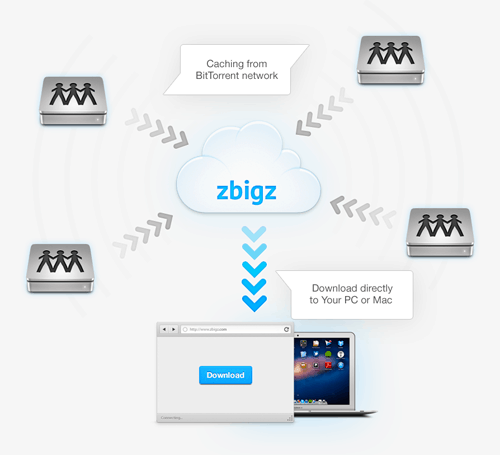 Zbigz introduces a new way to download torrents without having to rely on the BitTorrent P2P network. Zbigz allows you to download torrents directly from a dedicated server through a secure HTTP (HTTPS) link. This makes your downloads faster and more reliable. Also, since you are not connected to the open BitTorrent network, your computer is safe from any spyware or malware that might be infecting the system.
There are few factors to consider when downloading a file through the BitTorrent network. Firstly, you need a proper BitTorrent client to connect to the BitTorrent network. Secondly, even if you are connected to the BitTorrent network, there are many complex settings to be configured (routers, ports, firewalls, etc.)  to effectively utilize your bandwidth. Thirdly, even if the file you want maybe present in the network, there is a possibility that the peer is not connected to the network when you are trying to download the file. Finally, you are connecting to a peer to peer network, which exposes you to a number of unsecured networks. Additionally your activity can be fully tracked as it is an open network.
Zbigz takes care that you can download torrents effectively and securely. The Zbigz servers are preconfigured to download and cache files effectively. Once the file is cached on their servers (we experienced caching speed of 28MBps on a free account), a download link will be provided.  The  cached copy remains on the servers, so that you can also download later. There is no need of any client software as the file is directly available for download. Downloads occur through secure channel and IP addresses are not known to anyone. All downloads occur on behalf of ZbigZ.
Zbigz is available for Free (even without registration) and Premium accounts. Premium users get some added benefits like unlimited caching and download speed, unlimited download size, etc. Zbigz provides a fast, safe and reliable way to download torrents from the internet.
[button url="http://zbigz.com/" style="black" size="small"] Try Zbigz Now [/button]