No matter whether you're working for a startup, trying to implement a cool app idea, or a well established company, looking to build an app for your specific requirement, hiring the right people for the job is always difficult.
Check our updated list  >> Best Mobile App Development Companies – 2018
Open up the website of any app development company, and they all show you their success stories, achievements and positive client feedbacks. They all try to tell you that they are the best. But if you check out reviews on the Internet, you may find both good and bad reviews for a particular company. Which one are you supposed to trust?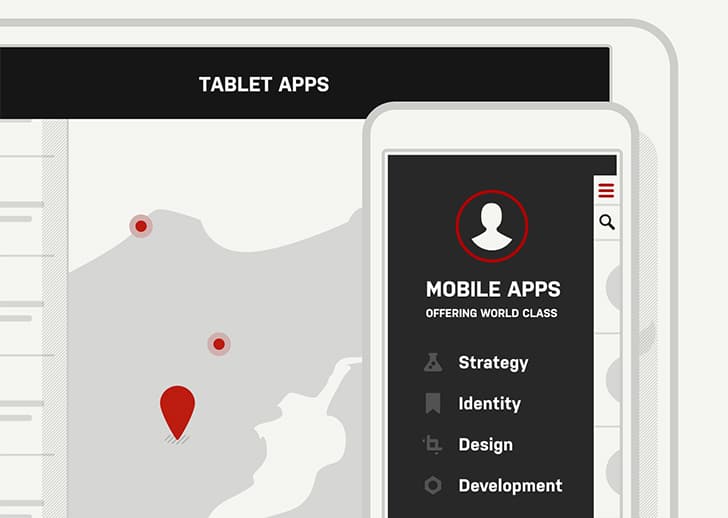 You need to thoroughly analyze and evaluate them one by one, based on multiple factors, such as, expertise, experience, size, budget, company focus, presence of influential people, etc.). But that's not all; mobile technology occupies a vast space these days, and a particular company which has more expertise on one platform, may not be able to deliver the same quality of product on another platform.
And to make things worse, there are hundreds of potential app development companies to choose from.
Top mobile app development companies
In this article, we have curated the top mobile app developers list, considering a number of key factors, (like the ones above), that you'd consider while choosing a company. We have invested a lot of time to funnel out the best app development companies worldwide. We hope that it will help you narrow down your search as well, and save you some valuable time.
We understand that different companies have different industry focus, average hourly rates, minimum project valuation, etc. And that you, as a client have your own specific requirements. Each company in this list has the potential to become your preferred app development company, depending on several of these factors. We recommend you to read through every detail in order to gain a better insight on the various companies listed below.
Fueled
Fueled does justice to its name by bringing together a team of passionate developers, designers and strategists, who are capable of delivering the best quality products in the industry. One of their major goals as a company, is to create the kind of apps and experiences that people usually talk about. Since 2007, they have been delivering highly polished iOS and Android apps for both startups and enterprise clients.
The company is known to hand-pick only the best and most unique projects. They have a rigorous in-house vetting process to polish and streamline all of the app ideas that come through. Once reviewed, the app enters design and development, guided by top specialists.
Apart from iOS and Android apps, Fueled also deals with other bleeding edge technology. And it's also one of the costliest firms to work with. So, if you're having a game-changing idea, and are willing to invest a considerable sum of money to turn it into a c, these are the guys who can make it happen!
"We love being on the cutting edge. From Google Cardboard and Oculus Rift VR betas to pushing the limits of our Apple Watches, we're always curious about what's around the corner and how we might be able to leverage it to benefit the iPhone apps, Android apps, and websites that we're building. We even got our hands on a pre-release Apple TV so we could make sure our clients were ready to go on launch day."
WillowTree, Inc.
WillowTree, Inc. is an industry-leading mobile product agency known to build great experiences across a variety of platforms, including mobile, web and more. WillowTree has designed and delivered over 300 mobile projects to the world's leading enterprise and consumer-facing clients, including GE, Johnson & Johnson, Time Warner, AOL, AEG, Regal Cinemas, and many more.
With a sufficiently large team of talented mobile strategists, UI/UX experts and software engineers, WillowTree Apps is most suitable for building apps for medium to large scale businesses.
"Our elite teams challenge themselves to build extraordinary experiences by bridging the latest strategy and design thinking with enterprise-grade software development… The result is the highest team satisfaction in the industry, independent analyst recognition, and an ever-growing list of delighted clients who work with us again and again."
Y Media Labs
Y Media Labs is a mobile app development company based on the US and India. With a talented staff, comprising of experienced strategists, designers and developers, the company partners with big brands to build products that leave a lasting impression. As such, their work has been featured in Apple, Business Insider, TechCrunch, Forbes and Mashable among others.
"We're in the business of innovation. The products we create have real impacts on our clients' outcomes. If you too are unafraid to dream bigger, then it's time to change lanes and join us."
Code Brew Labs
Code Brew Labs is a Chandigarh (India) based company focusing on Mobile App Development as well as on other emerging technologies, including Business Analytics, IoT, cloud computing & solutions, and even a bit of experience in AR and VR as well.
Working with Code Brew gives you a few notable advantages. You get assistance from the team even after your app has been delivered, for free. Their mobile strategy has been curated with a lean approach to maximize profits through cost effective solutions, suited to meet the business requirements of the clients.
hedgehog lab
Founded as a mobile consultancy in 2010, and with offices in London, Boston, Newcastle, Austin, Copenhagen and Hyderabad, hedgehog lab has a rapidly growing team focused on delivering great post-PC experiences and campaigns to Brands, Enterprises and Startups across the UK & abroad.
Along with apps for smartphones and tablets, they also architect, design, develop and market digital solutions for wearables, connected devices, AR, VR, IoT and connected vehicles.
"Our mission is to be the best post-PC technology consultancy in the world. Our mobile partners rely on us to deliver engaging multi-platform software and digital products that combine great user experience with robust & reliable technology platforms."
Intellectsoft
Intellectsoft is a full-service software partner, capable of developing, marketing, and maintaining both web and mobile applications.
Intellectsoft has helped 300+ clients — ranging from emerging startups to well established enterprises — develop apps and software solutions since 2007. Its experienced team of 200+ business strategists and technology professionals collaborate across 7 global offices to serve clients at every stage of the software development lifecycle.
The company specializes in the agile development of iOS, Android, Windows, and HTML5 applications in addition to CRM and ERP suites. Other services offered by the company include integration, marketing, and maintenance services.
"Many of your company's ambitious goals demand custom software solutions. Intellectsoft has built a company expressly for the purpose of satisfying your application development needs."
Dom & Tom
Initially starting off as a web development company, Dom & Tom is now an end-to-end digital product development agency focused on emerging technologies for both web and mobile. With a team of 61 experienced designers, developers and strategists, the company has successfully launched over 250+ projects across a myriad of platforms. And the team is dedicated to bring the best quality products to the market.
"Our best-in-class designers and developers work collaboratively to deliver products that we hold to the highest standards. We are passionate about building better experiences for real people. We prefer a user-centered process and to keep an open dialogue with our clients and users throughout the process."
Zco Corporation
With its custom-built software and backend development roots dating back to 1989, Zco Corporation has witnessed and survived the ever changing technology industry, for over 25 years. Zco is passionate in its mission to create attractive, resilient products for its clients.
The current development team consists of dedicated quality engineers, who specialize in mobile app development, enterprise software, and animation services, backed by a strong project management and marketing team.
"Our goal as a company is to always push the state of the art. Our vision is to adapt to changing technology. Our philosophy is that more technology will come and we'll be there!"
Intrepid
Intrepid is an end-to-end digital product strategy, design and development company founded in 2010, with offices in Cambridge, MA and Union Square, NYC. Their expertise in product strategy, design thinking, user-experience design, research and development in the latest and emerging trends and platform, has helped bring digital products to the market — especially those with a consumer end-user focus.
"We believe that creating successful products means understanding both the business aims as well as the market context. Over the past seven years, we have developed and refined our processes to build the best digital products for our partners."
The Intrepid team is comprised of over 120 people across two offices in Cambridge and Union Square.
Hyperlink Infosystem
Hyperlink Infosystem is being hailed as one of the fastest growing companies in its field. Established in 2011, Hyperlink Infosystem offers cost effective web and mobile solutions for its clients across the US, UK, Japan, Canada and other parts of the world. For a relatively young company, it has delivered projects for some of the world's biggest media companies, such as Cartoon Network, Disney, CNBC, etc.
Hyperlink Infosystem is known to work on projects at an economic rate, without compromising their quality or the delivery timelines. If you're on a tight budget, this company might be the one you'd want to hire!
"Our only goal is to make the clients and customers happy with our valuable products and services."
QBurst
QBurst is a global software solutions and consulting company with a strong focus on emerging technologies. Its 1200+ strong team covers a wide range of services including Mobile and Cross Platform App Development, Analytics and Visualization, Web and Cloud Deployment and more. Together, they have delivered more than 850 web and mobile projects.
Due to the company's employee strength, you are likely to get a dedicated team to work on your project. And in spite of the economical rate that they charge, you still get on-time delivery as well as assured quality.
"We focus on simplicity, design, and superior user experience while developing mobile apps for the consumer market. On the enterprise side, we have helped extend legacy applications and databases to the mobile and have managed the complexities of multiple data sources and devices. Working with the latest technologies, we build futuristic mobile solutions to today's challenging business problems."
July Rapid
July Rapid is an innovation and design focused mobile app development services studio of July Systems. They work with small businesses, funded startups and large enterprises to build native or hybrid apps for iPhone, iPad, Android, IoT and Wearable devices. The clientele includes some of the world's well known brands, including CNN, ESPN, Intel, ToysRUS, CBS, FOX, Hilton, LVMH, Conde Nast, NBC Universal and many more.
With a talented team of UI/UX Designers, Developers and Strategists, July has developed over 1,000 apps over the course of 15 years, and has pioneered mobile experiences since 2001.
"We design, develop, deploy and manage cutting-edge consumer and enterprise applications. We use our home grown tools to speed the development process and by providing a full suite of mobile app development services, we have earned a place among the best mobile app development companies. Besides providing you with a rich portfolio of innovative apps, we also dispense strategic and practical advice to help you achieve your business goals effectively."
ArcTouch
ArcTouch specializes in helping businesses engage with their customers on their most personal devices — from phones and tablets to wearables and TVs. From apps for phones and tablets to chatbots, voice assistants, VR and AR, the software they design powers the connected lifestyle. Their services include app strategy, design, engineering and lifecycle management.
Since 2009, the 100+ member team comprising of talented strategists, designers and engineers, has since served up hundreds of apps for more than 150 world-class clients.
"The secret to ArcTouch's success is understanding the connection between people and businesses. When someone installs an app, they're making a real commitment. It's an opportunity and a responsibility for brands and businesses to create amazing experiences for the customers they care about most — often on their most personal device, the mobile phone."
Founded: 2009
Office Locations: San Francisco, New York, Florianópolis (Brazil)
Platforms: iOS (iPhone, iPad), Android, IoT, Hybrid and Cross-Platform apps
Services: Mobile Strategy, Mobile App Development, UX/UI Design, App Engineering, Lifecycle Management
Client Focus: Enterprise, Mid Market, Small Businesses (Startups)
Industry Focus: Advertising & Marketing, Consumer Products & Services, Information Technology, Retail, Arts, Entertainment & Music, Hospitality & Leisure, Media, Transportation
Key Clients: Salesforce, Sony, Audi, Hobart, CBS, Adidas, Yahoo, Xoom, Nvidia, Symantec, etc.
Popular Apps: SkyJet, Audi, Hobart, Travelocity, Honeywell, Yahoo! Flickr, Yahoo! Messenger, Yahoo! Weather, CBS, etc.
Number of Employees: 100
Number of Clients Served: 150+
Average Hourly Rate: $150 – $199 / hr
Minimum Project worth: $25,000
Website: ArcTouch.com
Appster
Appster is a global people centric company with over 300 employees across 3 continents & offices in Silicon Valley (San Francisco), Melbourne (Australia), New York & India. They work with disruptive startups as the technical partner (without the equity). The company and its employees are tailored for Entrepreneurs and Fast-Growth Companies. Their clients have raised millions of dollars in Venture Capital fundings.
"In short: We create amazing apps, and help your company or startup achieve scale and business ROI. We are your co-founder, venture capital assistant, and startup accelerator rolled into one package … without taking a single dime in equity."
Fuzz
Fuzz is an award-winning mobile product agency based in Brooklyn, NY that specializes in designing and developing IOS and Android apps. The team comprises strategists, designers and engineers, who create mobile-first products for Fortune 100 clients and innovative startups.
"We are uniquely positioned to partner with product and platform leaders in global organizations to create, manage, scale and evolve their product ecosystems."
Ready4s
Ready4S is one of the highest rated mobile app developers in Europe and in the USA. As of now, they have created around 65 mobile apps, with a 57 member experienced team spread across 3 locations — US, UK, Poland and Ukraine. They have worked with clients across 25+ countries featuring startups as well as enterprises.
The company has developed over 65 mobile apps which has scored 2,000,000+ downloads from the App Store.
As a special offering to clients, Ready4S boasts an Economical MVP, a 20% partnership discount, along with a free demo week.
"We make high-quality, useful and beautiful mobile apps, but we are not only a developer. We will also create an app strategy for your app, support it, improve your idea and provide essential knowledge that allows you to make best business decisions."
OpenXcell
OpenXcell is a leading mobile app development company, established in 2008, and based in the United States and India. It comprises a team of more than 200 software engineers, technology consultants and creative designers, focused on delivering high-performance and scalable software products for different industries.
Along with mobile app development, OpenXcell has gained considerable experience in developing and maintaining successful software products, eCommerce portals, marketplaces, social networks, real-time business analytics and composite sync and integrations. OpenXcell has been providing cost-effective software solutions to major clients and big brands from around the world.
The company is well known for its in-house SaaS-based products, Orderhive (a multichannel inventory management system) and Workhive (a chat app for collaborating with the team).
"Whether you are looking for the mobile app, web app, SaaS software, eCommerce or retail & logistics solutions, you are at right place."
Savvy Apps
Savvy Apps is one of the most disruptive app development companies in the list. Their work has made the limelight on many occasions, with 20+ featured apps, including an Editor's Choice from Apple.
They've also spoken at Google and SXSW, been on Bloomberg Television, led sessions at industry insider conferences like 360iDev, helped customers raise millions of investment dollars, and even wrote an O'Reilly book that reached #1 on Amazon.
"Savvy – as our customers affectionately call us—has crafted hundreds of app experiences, pushed thousands of app updates, and seen millions of downloads from our work. We believe we have the best team in the game: a group of passionate, particular, and proven individuals. We care about each other, our customers, and doing great work."
DMI
DMI (Driving Mobile Innovation), the world's first end-to-end mobility company, combines all the skills and services necessary to deliver mobile enterprise solutions. The company started out reselling technology products and was soon awarded the first of many government contracts.
Built to reinvent business through mobility, DMI has expertise in mobile strategy, UX, web, and app development, omni-channel commerce, brand and marketing, big data management and analytics, and secure device and app management. The company's unique, integrated approach to mobility has resulted in dramatic growth as well as an expanding client base, which includes hundreds of Fortune 1000 commercial clients and all fifteen US Federal Departments.
As you might have guessed by now, DMI is a giant in its own terms. With a 1800+ powerful team combining the various skillsets necessary to deliver successful mobility solutions, DMI is well capable of handling industry-grade projects on a global scale.
If you have already worked with any of these companies before, do drop us a note on how working with them has been like. Your feedback might help other businesses to find the right mobile app development company, and these companies to find their next big client!
Last updated on April 30, 2017