Apps are what makes a smartphone really smart. The App Store is filled with millions of utility apps to help you to get your job done in a smarter, easier and more convenient ways. In this article, we'll list down some of the powerful iOS utility apps, categorized by what they are useful for.
Note: Some of the apps mentioned below may be restricted by Geolocation, or may not be relevant for you (marked with '*'). In that case, you could choose a suitable alternative specific to your location.
[no_toc]
Augmented Reality
Augmented Reality is an innovative concept that super-imposes digital information over (images or live video of) objects in the real world. In the world of smartphones, augmented reality apps implement interactive ways to provide information about real world objects in the surrounding area. To know more about augmented reality apps on iOS, check out our dedicated article.
Popular Apps: FlightRadar24, Layar, SkyView, Wikitude, Visual Translator
Banking Apps *
Most of the popular banks all over the world now have individual smartphone apps that let you access account information, manage your bank account and even transfer money to other accounts, right from your smartphone. If your bank provides apps for iOS devices, you can install them from the App Store and try them out.
Barcode, QR Code Reader
QR and Barcode reading apps can prove to be handy in a number of situations. A variety of information, including website URLs, authentication codes, payment details, login credentials, etc., can be implemented into QR codes. All you need in such cases is to hold your smartphone in front of the printed code, and the QR code reading app will be able to read the information in it.
iOS doesn't ship with any barcode or QR code reading apps. But there are a lot of alternatives available on the App Store.
Popular Apps: Scan, RedLaser, KaywaReader, Quick Scan
Money Management & Bill Payments *
Money management apps allow you to manage your expenses efficiently and pay your bills for a number of services. You can choose any particular biller and pay bills using your preferred payment option (e.g., credit card). These apps usually support billing for a variety of utilities, such as mobile, electricity, gas, online subscriptions, tax payments, etc.
Popular Apps: Mint, Prism, Paytm, MobiKwik
Booking Apps *
Booking for flight, train and bus tickets are perhaps quite common these days. You may also be looking to plan a movie night, catch a cab ride, or stay at a hotel away from home. All it takes to confirm such bookings nowadays is a smartphone.
Popular Apps: Uber (Cab), Kayak (Flight), OYO (Hotel), Airbnb (Lodging), Showtimes (Movie), Hotels.com (Hotel), BookMyShow (Movie)
Camera Control & Photo Editing
The iPhone camera is regarded as one of the best smartphone cameras available in the industry. A wide variety of third-party camera and photo editing apps are available on the App Store, that might make snapping even more delightful on iPhone.
There are iOS apps that enable you to use DSLR-like camera controls on your iPhone or iPad. Some apps also allow you to apply ready-made filters to add special effects to existing photos.
Popular Apps: Camera360, VSCO Cam, Camera Plus, Camera+, ProCam, 645 PRO Mk III
— Apps for viewing and editing Photo Metadata
Photos shot with the iPhone (or any other digital camera) contain more information than just the type and dimensions of the image. It contains location data, camera hardware & settings data, and many more technical attributes that a professional might be interested in. There are certain apps on the App Store that let you view and edit such details of photos stored on your iPhone or iPad. For more information, you can read our dedicated article on viewing and editing photo metadata on iOS.
Contact Management and Caller ID
Contacts on your iPhone are often synced with multiple cloud services (such as Google, Hotmail, iCloud, Facebook, etc.) and sometimes, your contacts might get duplicated. In such situations, you can use apps that help remove duplicate entries by merging them together.
Popular apps: Cleanup Duplicate Contacts, Smart Merge, Cleaner Pro
iOS has a caller ID feature integrated into its Phone app, But if a particular caller is not in your contacts list, all you get to see is a phone number. There are apps for your iPhone to identify unknown callers. Humin is a contact manager app with a touch of social media. It helps you identify callers within your circles , if they are not in your contacts list. Truecaller is another app to identify unknown callers on your iPhone.
E-Commerce Apps *
If you like online shopping, you should have a few of these apps installed on your smartphone. All of the popular e-commerce sites like Amazon, eBay, Walmart, etc., have mobile apps for all popular smartphone platforms, including iOS.
Email Clients
If you frequently read and compose emails on your iOS device, you might consider using an alternative email client, other than the default Mail app from Apple. There are several third party email clients, each of which takes a different take on emailing. Mailbox is well-known for its lightweight and simplistic UI. Google introduced the Inbox client, which implements the latest Material Design, Geronimo takes a more gesture based approach with cool, intuitive UI animations.
Popular Apps: Outlook, Mailbox, Inbox
File Manager & Downloader
File management apps on iOS allow you to save and open specific types of files within its isolated storage. Usually, you can import files into the app or export them from it via iTunes on your computer or by using the Open In menu of iOS. Documents app is one of the most versatile file manager and viewer apps for iOS.
It supports a wide range of file formats and also includes a file downloading utility, by which you can download and save files locally from the Internet, by just providing the download URL. You can learn more about downloader apps for iOS, in this article.
File Security
Users often keep confidential information on their smartphones. To protect such data from falling into the wrong hands, there are apps available to provide secure storage. Such apps allow you to keep photos, videos, notes, documents and other types of files in an isolated storage and encrypt them with password.
Popular Apps: FileBox, Secret Safe Vault Manager, Boxcryptor
File Sharing
Apple already has AirDrop for sharing files with nearby compatible Apple devices. But if you want to share files with non-Apple devices, you need to resort to third party apps. Basically, these apps help you to transfer files between devices sharing the same WiFi network, so it does not require an Internet connection to complete the transfer. Examples of such apps include SHAREit, Infinit, etc. Although Infinit does not require an Internet connection for file transfer, it does need the Internet to initially login to the application.
You might also like: Share files between iOS, Android & Windows Phone
There are also other file sharing apps that require an Internet connection in order to transfer files between two devices. SendAnywhere and Pushbullet are a few such examples.
Home Delivery *
There are a lot of apps to choose from, if you wish to order food from home or get groceries delivered at your doorstep. Food delivery services like foodpanda, Delivery Hero, Just Eat, Eat24, DoorDash, GrubHub, etc., collaborate with local restaurants around you and allow you to order food from them using your smartphone. These services then get your order delivered to your doorstep at no extra cost. You can find more about these food delivery services in this article.
There are similar services for delivering groceries to your home if you are just too lazy to visit the local departmental store. Popular grocery delivery apps for iOS include Instacart, Safeway Grocery Delivery, Grofers, etc.
Maintenance
With every bit of use, smartphones accumulate junk data and tend to become sluggish over time, and iOS devices are no exceptions. But there are numerous apps to help you clean up junk data and keep your device running smoothly.
Along with junk, battery usage is another critical area which iPhone and iPad users often complain about. Apps like Battery Doctor lets you monitor battery usage on your device and help prolong battery life by closing unused apps, freeing up memory, etc.
Popular Apps: Battery Doctor, Memory & Disk Scanner Pro
Media Player
Media Playback is another area where iOS gets a headway compared to other smartphone platforms. Apart from the default Music and Videos apps that ship along with iOS, a host of third party apps on the App Store provide cool additional media playback features on the iPhone, iPad or iPod Touch. Some of the apps like VLC Media Player, support a wide variety of media formats, while some other apps like Listen, provide intuitive user interfaces to enhance the media playback experience.
You might also like: Custom Equalizer on iOS, Android and Windows Phone
Music ID & Lyrics
If you are a music lover, discovering new music is certainly your thing. But many a times, you might hear a track that you like, but not know the artist or song name. Music ID apps like Shazam, SoundHound, etc., can help identify the song in such situations.
People who appreciate music often take a liking to song lyrics too. If you are one of them, there are apps that display synced lyrics for songs currently playing on your device as well as in the surroundings (using Music ID). Musixmatch is one good example of lyrics app for iOS.
But such apps usually depend on a working Internet connection to display the lyrics. If you want to see lyrics of songs in your collection in offline mode, you can also embed lyrics into songs using desktop apps.
Near Me Apps
These apps are handy for discovering a variety of useful outlets (like ATMs, restaurants, bank, bus stations, stores, etc.) available in the area where you are situated. When you're visiting a particular place for the first time, these apps can help you find your way around.
Popular Apps: Foursquar, AroundMe, Find Near Me
News & Magazine
If you like to read the news on your smartphone or tablet, these apps provide a decent reader-friendly interface. Apple has announced its own News reading app for the iPhone and iPad, which is to be shipped with iOS 9 this fall.
Popular Apps: FlipBoard, Apple News, Feedly, Pulse, Pocket, Google Play Newsstand, Yahoo News Digest, Zinio
Office Suite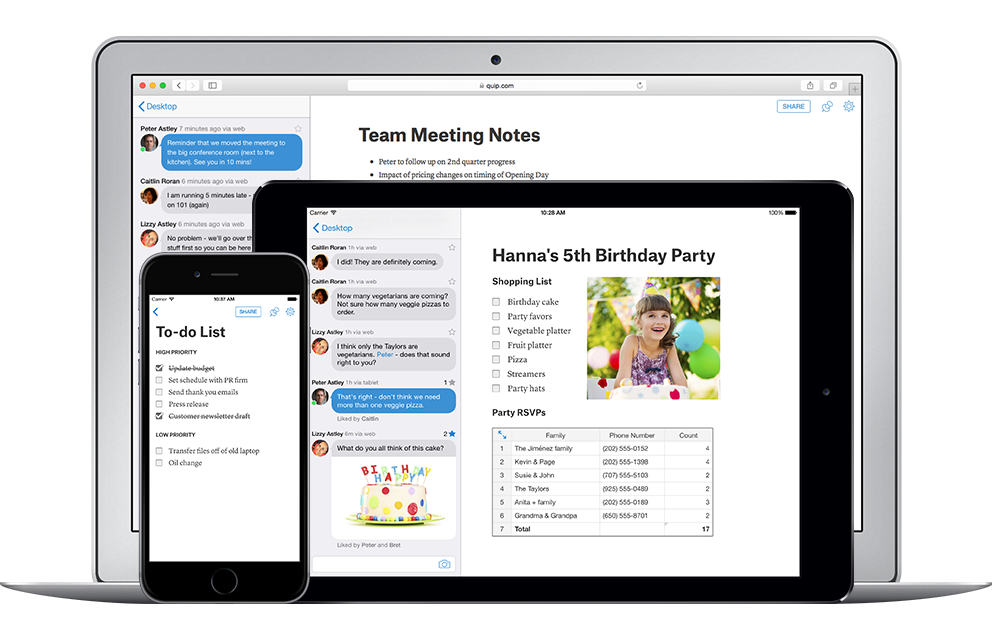 Digitizing paper documents have become quite conventional these days. And thanks to Adobe and Microsoft, Word files, PDF documents and Excel sheets have replaced the physical filing cabinets in your office space. For accessing such digital documents on your iPhone or iPad, there is a plethora of Office Suites available on the App Store, compatible with most of the common and popular document formats used today.
Popular Apps: iWork, Microsoft Office, Quip, Office Suite Premium, Google Docs
In the quest for digitizing paper documents, scanning also plays a major role. And nowadays, smartphones with decent cameras (like the iPhone) are often used to scan documents, with the help of third party scanner apps. Just take a photo of the page you need to scan, using a suitable app on your iOS device, and the app will automatically convert the picture into a scanned image (either grayscale, black and white or color according to your preference).
These apps can also detect the paper edges in the scanned images, and can trim them accordingly. Some implement OCR technology, so that you can convert the text in the scanned image to editable text on your iOS device; hence enabling complete digitization of documents. Some of the popular scanner apps for iOS include Scanner Pro, CamScanner, etc.
Online Streaming *
Over the past few years, the online media streaming industry has been quite popular with services like Spotify, Rdio, Deezer, Hulu, Netflix, etc., coming into the spotlight. Such services allow you to access the latest media content as they are released. Some of these also let you access such content for free (with certain limitations).
These services also offer apps that allow you to stream your personalized media content on mobile (including iOS) devices. On the downside, though, most of these services are not available globally. If you feel like you're missing out these services, you can access them using suitable VPN or SmartDNS solutions.
Password Manager
With the explosion of Internet usage on a worldwide scale, most of the people have multiple online accounts for different online services. It is often recommended to use unique passwords for all your services and make them as unpredictable as possible. But then, remembering all those passwords is also quite difficult.
Though Apple's Keychain helps you manage passwords on your iOS device, it's not much useful if you want to sync your passwords with other (non-Apple) devices. To help resolve this problem, some third party cross-platform password management apps like 1Password, LastPass or OneID store your Internet account passwords within the app and help you to automatically login to the respective services without you having to manually type passwords again.
Relaxation Apps
Sometimes, you just want to hear some soothing sounds to help you relax and calm down your nerves. And on iOS, you'll find a number of apps to help you do so. Using special sound effects, fan sounds, echoes and natural sounds (like wind, rain and thunder), these apps set the perfect natural atmosphere to help you relax.
Popular Apps: Windy, Thunderspace, Sleepy Fan
Remote Control
Macs and iOS devices (iPhone, iPad) get along great together, thanks to the Continuity features introduced in OS X Yosemite and iOS 8. But some third-party apps can take it to the next level. Apps such as Alfred Remote, Knock or MacID help to unlock Macs remotely using iOS device.
Additionally, these apps also enable other remote control features such as accessing the iOS clipboard on OS X and vice versa, controlling music playback on Mac, etc. Another app called Pushbullet enables you to receive iOS Notifications directly on Mac.
Shipment Tracking
If you receive a lot of couriers on a regular basis, tracking your shipments might be a big hurdle. Many courier services do offer package tracking, although mostly it is a manual process. Some couriers provide mobile apps which allow you to receive push notifications on your smartphone or tablet about the current status of your package.
But if you use different courier services, installing apps for each of them is not feasible, and not all courier services offer mobile apps. In such situations, apps like Aftership can help you track packages from multiple courier services simultaneously, giving you push notifications for tracking shipment status for each of your packages.
Popular Apps: AfterShip, Parcel, Slice
Third Party Keyboard
iOS 8 finally introduced the support for third party keyboards on iPhone, iPad and iPod Touch. Ever since the announcement, a flurry of developers have brought in different types of third party keyboard apps to the App Store.
Popular Apps: Swiftkey, Fleksy, Swype, TouchPal, Minuum
Travel Planner *
For travelers, there are apps to help you plan your holiday, just in case you don't want to miss out on anything once you get to your destination. These companion apps let you be in control of your trip, by providing information about the best way to get there, the best time to visit, current hotel room availability, facilities available, and more. With all that information right in your pocket, you'll be all set for the perfect holiday destination.
Popular Apps: Tripit, Trip Advisor, Worldmate
Video Compressor
Nowadays, we often share videos online using messaging apps like WhatsApp. And most of these messaging services put a size limitation on the content you want to share. If you want to share a video that exceeds the size limitation, one option is to use a suitable video compression app to reduce its size. This will also reduce bandwidth usage required for uploading the videos.
Check out our article on Video Compression apps for iOS devices.
VoIP Calling *
As IM apps like WhatsApp, Line, WeChat, etc., are slowly replacing conventional SMS, VoIP has also similarly began to replace conventional phone calls. VoIP services make it possible to make voice calls to other users over WiFi Internet or Cellular data. Some VoIP services also allow you to make calls to conventional cellular networks, usually at some cost; while IP calls using the same VoIP service on both ends are usually free.
Popular Apps: Skype, Ringo, Viber, Rebtel
Wallet Apps
Carrying all your credit, debit and loyalty cards physically in your pocket is not always convenient. And why do it when your smartphone can carry all that for you. The iOS Wallet app can scan your credit, debit and loyalty cards and store them securely on your iPhone or iPad. Once you have stored cards in your Wallet, you can use them to make payments online or through supported in-store payment outlets (Apple Pay) using your NFC-enabled iPhone or Apple Watch.
There are also third party Wallet alternatives available on the App Store, such as LifeLock Wallet, that allow you to store debit, credit and other loyalty cards securely on your iOS device and in the cloud. LoopPay is a service that additionally allows you to make payments with your iPhone using the stored cards, and thus, can serve as a good alternative to Apple Pay.
Weather Apps
The iOS App Store has a good collection of weather apps ranging from ones sporting gorgeous graphics and special effects to the ones that provide a host of weather information. Some of these apps also provide Today Widgets, so that you can get weather information at a glance from the Notification Center on your iPhone or iPad.
Popular Apps: AccuWeather, Yahoo Weather, Dark Sky, Forecast+
Web Browser
Though Safari for iOS provides a decent web browsing experience, there are other third party web browsers available on the App Store, which may be useful in certain situations. Google Chrome is preferable if you want to sync your bookmarks with Chrome on your computer, and to get a better experience with Google services.
Puffin is another browser that optimizes web content for faster loading. It enables you to load full desktop sites on iPhone or iPad, and also supports Flash content. Opera's Coast browser offers an intuitive UI that provides app-like experience for websites launched within it.
Miscellaneous
Other than the utility apps mentioned above, you might also consider installing the following apps on your iOS devices.
CamFind: CamFind is an AI based visual search engine, which lets you identify objects in photos, and search the web based on it. You can read more about reverse image search in this article.
Narwhal: There's no official reddit client available on iOS devices, but Narwhal deserves to be one. Though there are other reddit clients available on the App Store, Narwhal stands out from the rest in terms of its simplified user interface and decent experience that it provides.
SnapPen: Sometimes, we want to mark or annotate on an image to draw people's attention to a specific area or element on it. SnapPen is the quickest way to scribble on photos and share with your friends. Whether you want to jot down dimensions on a photo, scribble a note, or mark a spot on a map, SnapPen has you covered. Just snap a picture, or choose one from your photos, add your scribbles, and share them with anyone you want.
View Source: This one is primarily for developers. On desktop computers, web browsers provide the feature to view the source code of a web page. On mobile devices, browsers don't provide such option. View Source is an app that removes this limitation from iOS devices. Simply provide the particular webpage URL on the app's address bar, and it will display the source code of that particular page. The app also provides an Action Extension for Safari, so you can directly view the source for a web page opened in the browser.
SpeedTest: A useful iOS app to test the upload and download speed of your Internet connection.
Workflow: Workflow is a unique task automator app for iOS that lets you design custom workflows for performing tasks on your iPhone or iPad, and later run them at your convenience. With Workflow, you can combine common iOS actions to form tasks that otherwise are not available by default.
You might also like: Share music files over WhatsApp using iPhone
This brings us to the end of our list of most essential iOS apps. Of course, you may need apps specific to your work that are not mentioned on this list. But if you think that we have missed out an essential app that should have been mentioned, do let us know in the comments below.